Dancing Square

Dancing Square is een serie modellen, ontwikkeld tijdens de werkperiode in Schloss Ringenberg 2003. Dancing Square zijn veirkanten met een rond gat uitgesneden. Alle modellen zijn van papier en laten zich derhalve makkelijk vervormen. Door zonder gedachten de platte vorm te verbuigen en door elkaar te steken, ben ik op zoek geweest naar de grenzen van het materiaal. Omdat het steeds om een aaneengesloten stuk materiaal betreft, worden al je handelingen door het materiaal geïnterpreteerd. Het materiaal heeft spanning en dat krijg je in verrassende onverwachtse vormen terug. Voor mij laat dit de magie zien van het ontwerpproces en verbeeld het de constante dynamiek en verborgen mogelijkheden van de fantasie.
Afmeting: divers // materiaal: papier.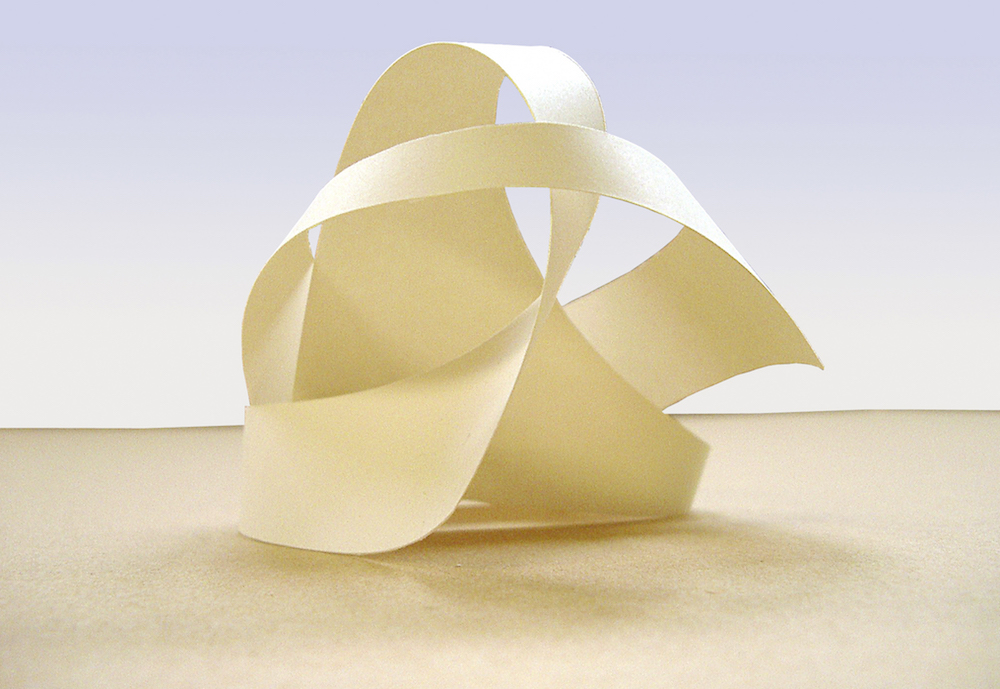 English: Dancing Square is a series of scale models, developed during the working period in Schloss Ringenberg 2003. Dancing Square are squares with a round hole. All models are made of paper and can therefore be easily deformed. By bending the flat shape without thought and by pulling it through itself, I tried to find the boundaries of the material. Because the experiment always concerns a continuous piece of material, all your actions are interpreted by the material as well. The material has tension and that's what you get back in surprisingly unexpected forms. For me, this shows the magic of the design process and represents the constant dynamics and hidden possibilities of the imagination.
Size: divers. // material: paper.